CADREnet
Network, Software Agents, Pagers (1997-1998)
CADREnet was a collaborative art project investigating issues of communication networks and system dynamics. It consisted of a pager community who governed the functionality of a paging system, mainly by creating software agents and orchestrating events. I developed the main router for the pager communication and software agents, the web interface and the different commands for manipulating the functionality of the system and the agents externally. Archive of the CADREnet web-site


Area 210/Area 51 – landscape painting as counter-surveillance, and related event.
Performances, Web-Site, Paintings (1997)
A collaborative project/event. Exhibition: Area 51 Research Center, Rachel, Nevada. Painting Exhibition: Area 51 Research Center, Rachel, Nevada. April-June 1997.
Home Page


The Michael Heizer - Area 51 Connection
Web Site (1997)
A re-contextualization of the land-art artist Michael Heizer's work. The project was made in collaboration with Jan Ekenberg, Benjamin Eakins. The site is not accessible for the moment due to possible lawsuit.
See Above.


Virtual Void
VR System, Installation (November 4-7 1996)
A virtual reality system software and installation, exploring navigation and information mapping in intelligent environments, exhibited at gallery 5, San Jose State University,
Documentation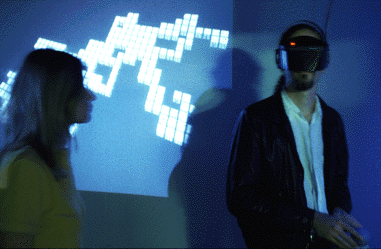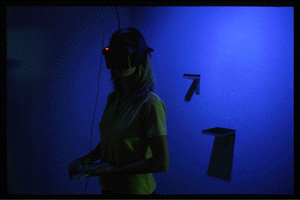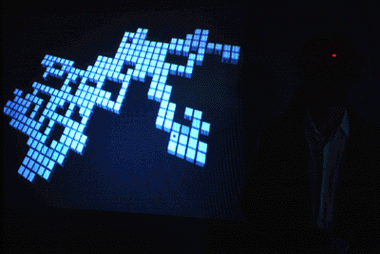 Sign Detection, Interpretation and Surveillance
Web Site (Fall 1995)
A Surveillance/Web project.


PAT
Software (1995)
PAT was a software agent residing on Switch web server (switch.sjsu.edu) in the spring of 1995 monitoring, interpreting (according to the enneagram personality profiles) and responding to, the navigation of the users on the Switch web site. Each user was served different content depending on their behavior/type. and their "mental health" was mapped In collaboration with Ben Eakins and Mark Erikson.


Virtual Reality Wannabe
3D Animation (Winter 1995)
A few stills survived from this animation. The original animation contained movies of modeled pieces of crap intersepted by the new words added to the Oxford Dictionary of the English Language 1995.


Hej Gud
E-mails, News-group postings, Installation (1994)
A Performance and installation in Internet news groups (alt.religion.christian, alt.paranet.ufo, alt.alien.visitors and alt.pagan) and the Art Department, San Jose State University.
Description/Documentation


Everybody Says She Doesn't Look Like This, It Doesn't Matter, She Will.
Computer manipulated photography (1991-1992)
Exhibited in the group show "Disturbance" in Sweden and the Baltic region 1992/1993 (Swedish Travelling Exhibitions). Documentation


Selected Writing/Presentations
Lisa Jevbratt in A Minima
Inquires in Infomics
Chapter in "Network Art" edited by Tom Corby , Routledge 2005

A Prospect of the Sublime in Data Visualizations. (download pdf)
Presented at: 2005/02 Techno Sublime, Boulder Colorado
(An earlier version published in Ylem August 2004 and Scale Online)

Coding the Infome - Writing Abstract Reality (dichtung-digital, Issue 3, 2003) (pdf)

Modernism and New Media: Net Art and Supermodernism
Presented at: 2000/08 Panel presentation San Francisco International Art Fair

Datum, Permissions and Invitational Roles in Hypertextual Networks
Audio at thing.net, Topic: Art and Networks
Presented at: 1999/04 Tuesday Night Lecture Series, Engineering Building, San Jose State University.

The Stillman Projects: thesis (Fall 1997)


Interviews
Lisa Jevbratt about The Stillman Projects
Interviewed By Steve Dietz (Feb 1999)

Eine Menge Arbeit, um damit nichts zu sagen... , (Translated to English: A lot of effort to say nothing...) Tilman Baumgärtel, Telepolis (Feb 2000),

Perl is My Medium, Alex Galloway, Rhizome, (Feb 2001)



Teaching
UCSB class websites (since 2002)
Examples of student projects SJSU/CADRE 1997-2001 (links don't work anymore)